The winter in Alaska make people think twice for vacation choice. I have been in the United States for 20 years and have never dared to plan a trip to Alaska which in my mind is quite dangerous. This year, feeling the call of the aurora, I decided to embark on a trip to northern tip: Alaska – America's last Frontier.
Many people go to Alaska in the summer, the low temperature in winter often reaches minus 40 degrees Celsius. Although I have lived in Inner Mongolia for many years, the ice and snow more than 20 years ago has become a faded memory of childhood. I wonder if I would be okay in this cold weather.
Arrived in Alaska on the evening of 12/30/2018. As soon as we arrived at the arrival hall of the airport, a chill came and the hotel driver who came to pick us up flew across the airport and did not even stop. We had to take a taxi to the hotel. The driver said that this is the second warmest year in Alaska history, otherwise it should be snowing every week, and the snow time was delayed from September to November.
On New Year's eve, we drove around a bit in the snow watched the firework around University of Alaska.
We went back to hotel at 8:30pm, and went to bed. Weather: Cloudy, Aurora prediction: 2 low.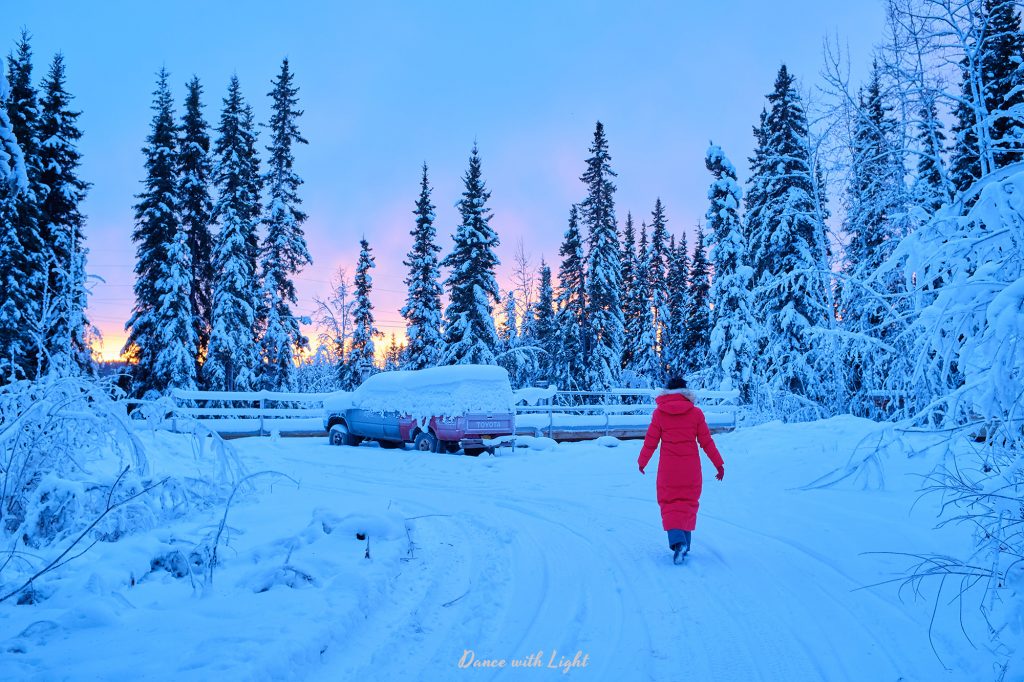 At New Year's Day breakfast, I met several Chinese students from San Diego. What they told me made me regret big time: they saw the strongest aurora in the past three months last night, on New Year's Eve! I vowed not to sleep for the next few days: the weather is unpredictable. I am determined to see the aurora.
We booked a Husky Dog Sled tour, and it was a blast! Sledding through the snow covered forest in a whisper quiet trail was just like a fairy tale. I highly recommend Sirius Sled Dogs .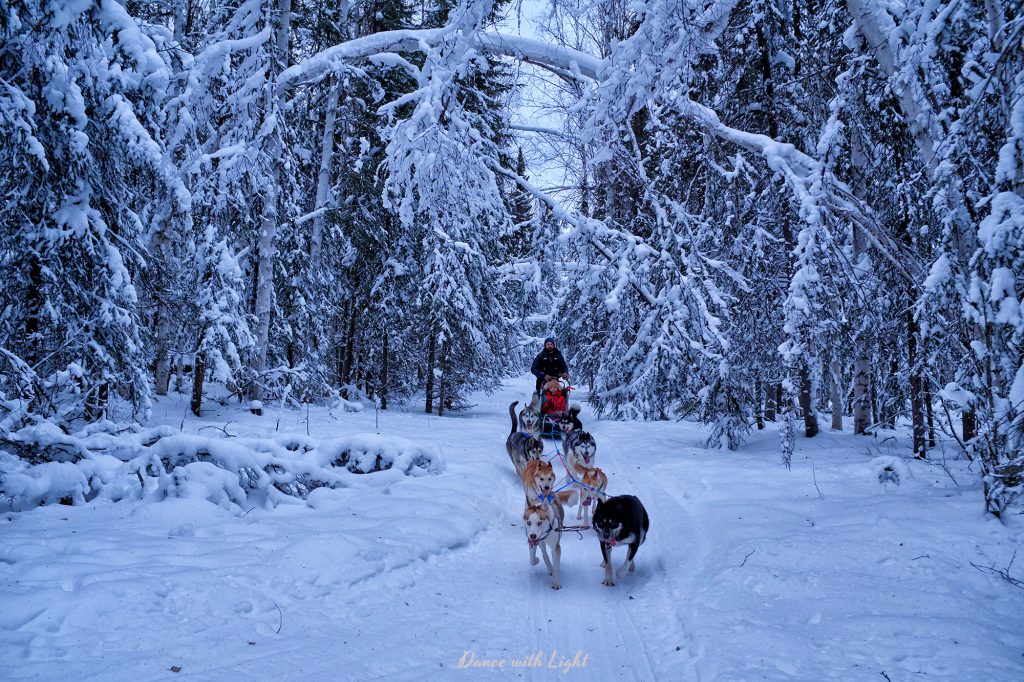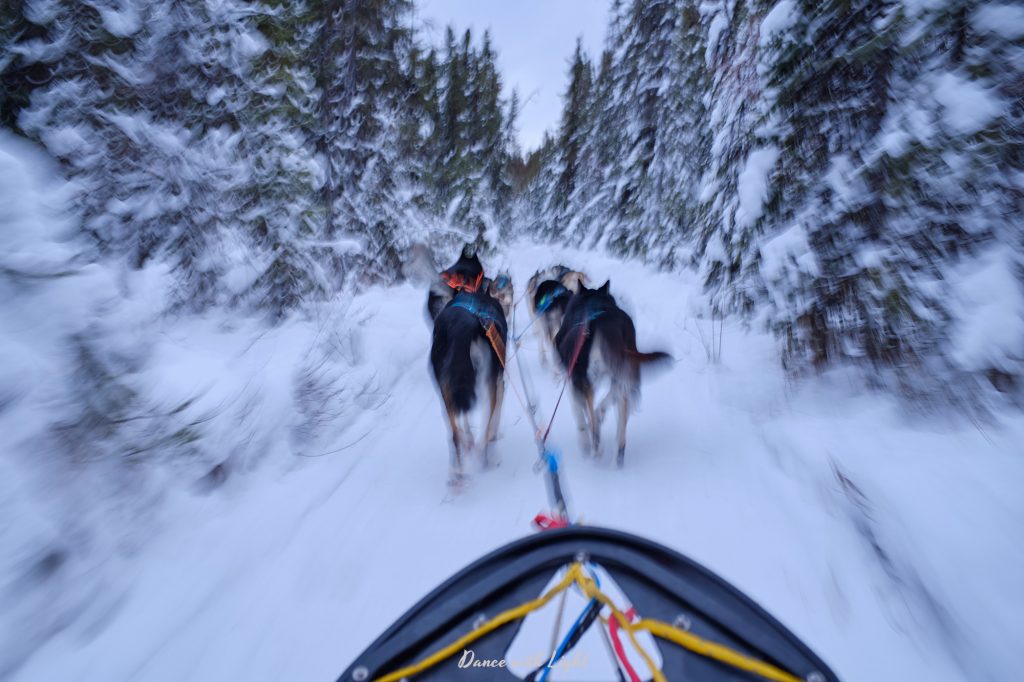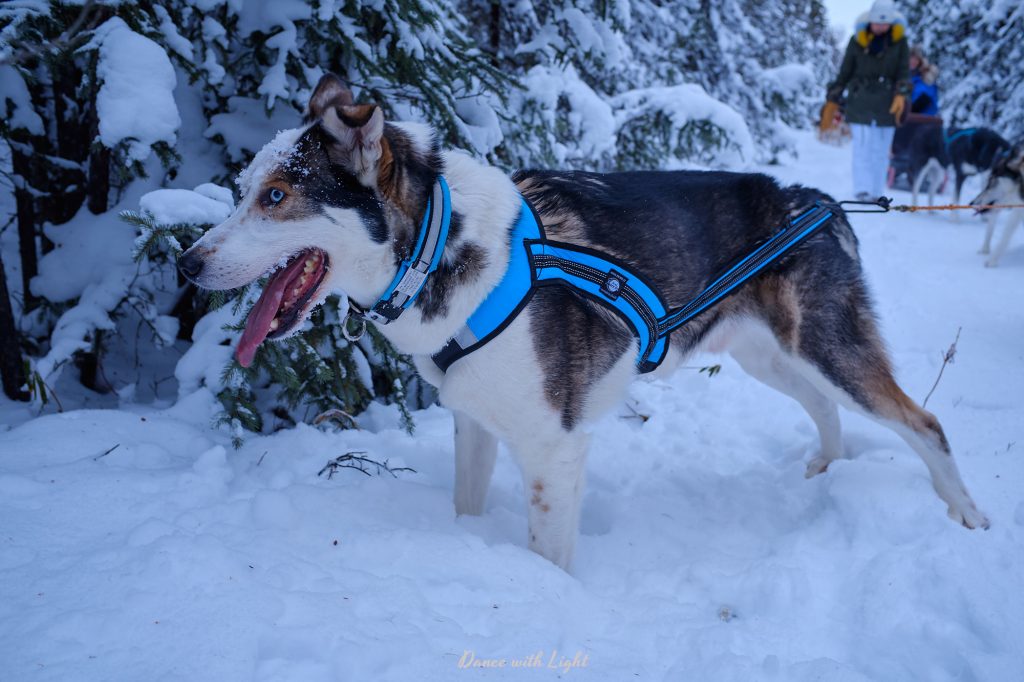 We then drove to Chena Hot Spring Resort, the 80-kilometre highway seems to be built just for them, and the hot spring is right at the very end of highway. I was timid and afraid of going into the hot springs like a boiled dumplings to make the body warm and cold at the same time. Fortunately, the hotel features salmon and Alaska King crabs – these are delicious! The activity center told us that the probability of aurora that night was very low and many people did not come out. I waited for three hours outside at the small airport strip to photograph the Milky Way, and captured a small piece of shy aurora. It can't be seen by the naked eye, and the camera captured it.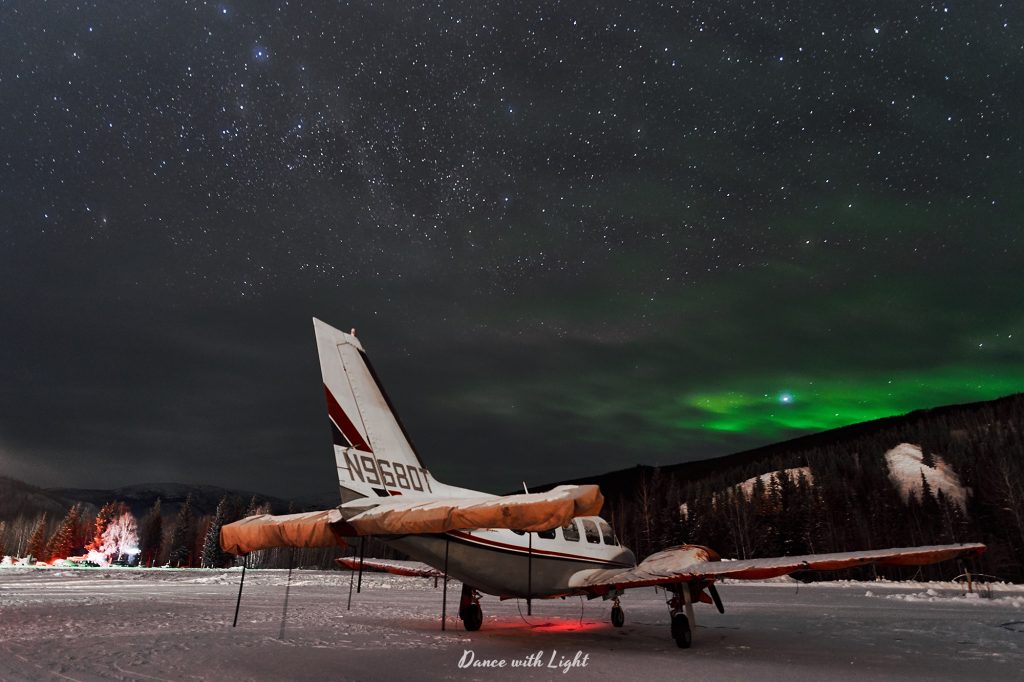 On the third night, We took an army off-road vehicle for 30 minutes to the top of the mountain and got off at 9:50pm. From the experience of the previous night, I immediately recognized the aurora in the sky. I skipped the hot stove heated tents, and plunged right into the snow at minus 30 to 35 degrees Celsius cold air. The sky turned from dark black and blue to milky white, pale green, pale pink, and the aurora became stronger and stronger. Before you realized, the aurora danced slowly, watching her flew in the sky like a musician playing the piano, sometimes cheerful, and sometimes spectacular, and occasionally splashes a few colored inks, all along with the Milky Way. It was really a visual feast of God. The people around us came from all over the world and were all left speechless.
In ancient times, most people thought that Aurora was an angle visting the Earth. However, she mostly appeared at an altitude of 50-160 km from the ground. In history, only two people witnessed the Aurora to reach as low as the top of the mountain. After returning to the hotel three and a half hours later, I noticed that my boots were covered with snow and ice, and my feet turned red and they itched badly when I went into a hot shower – bad idea! Weather forecast: snowy cloudy, aurora prediction: 4 strong
After sleeping for two hours, next morning, we drove to meet Jenna and David (Boreal Journeys Alaska) a Jewish couple in Alaska who have moved from out of state to settle down in Alaska. Jenna graduated from Law School, David's family is mostly doctors. They came to Alaska and chose to live here.
They bought 600 acres of land next to a large river in the deep forest (later bought 2,400 acres of land and spent a total of 76,000 US dollars). The life is mostly fishing and hunting. The surrounding 30 kilometers are federal land, so they have their own paradise completely to their own. After three years of hard work, they built their own home here: a cabin for 4 people, a fish cabin for storing thousands of salmon, a tent kitchen, a tent to watch starry sky and aurora, and an upcoming tent. They also built a two-story wooden house facing south. The big wood house needs a total of 70 main logs (each nearly 160 kg each – two years after air drying), without a nail, without a mechanical lifting machine, the couple used two pieces of wood to make the crane used in the army (Gin Pole Crane) . It is expected that this house will be completed next summer, which will be their warm home.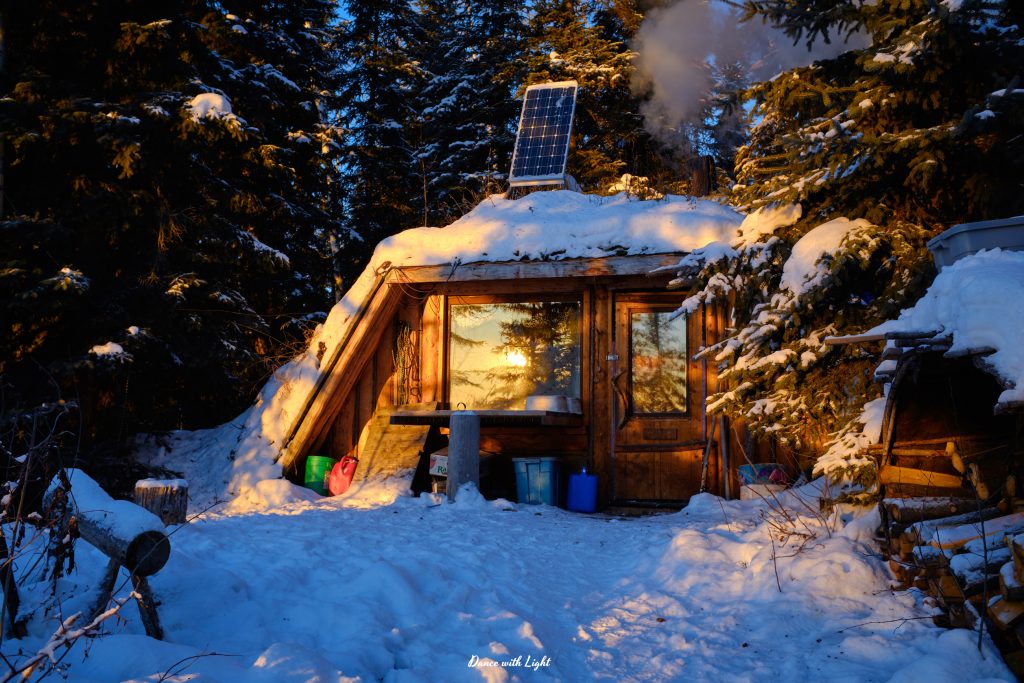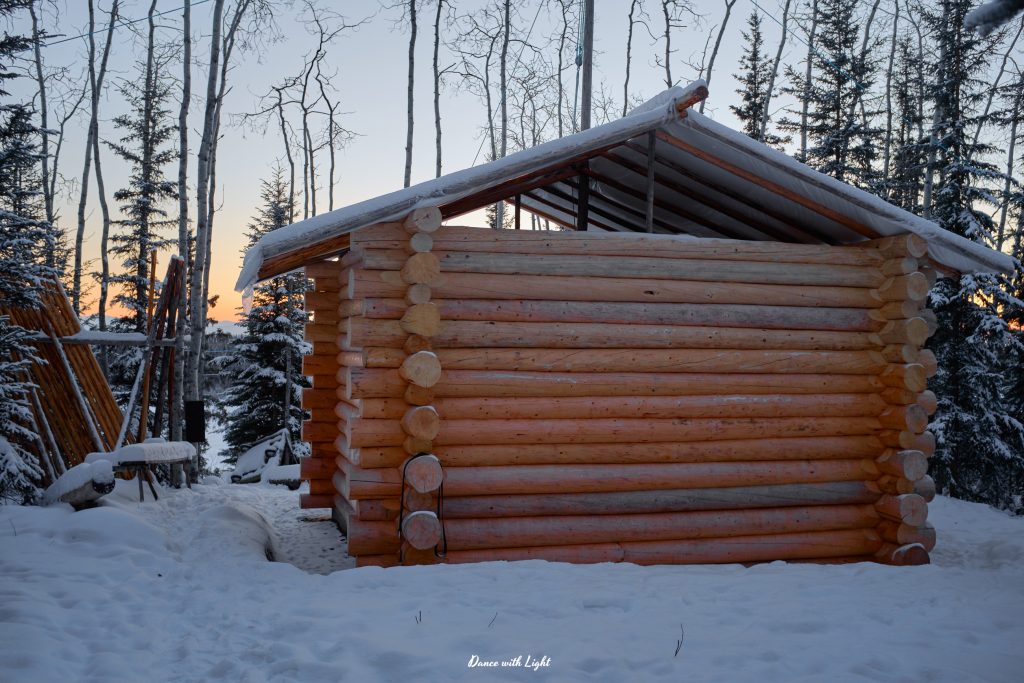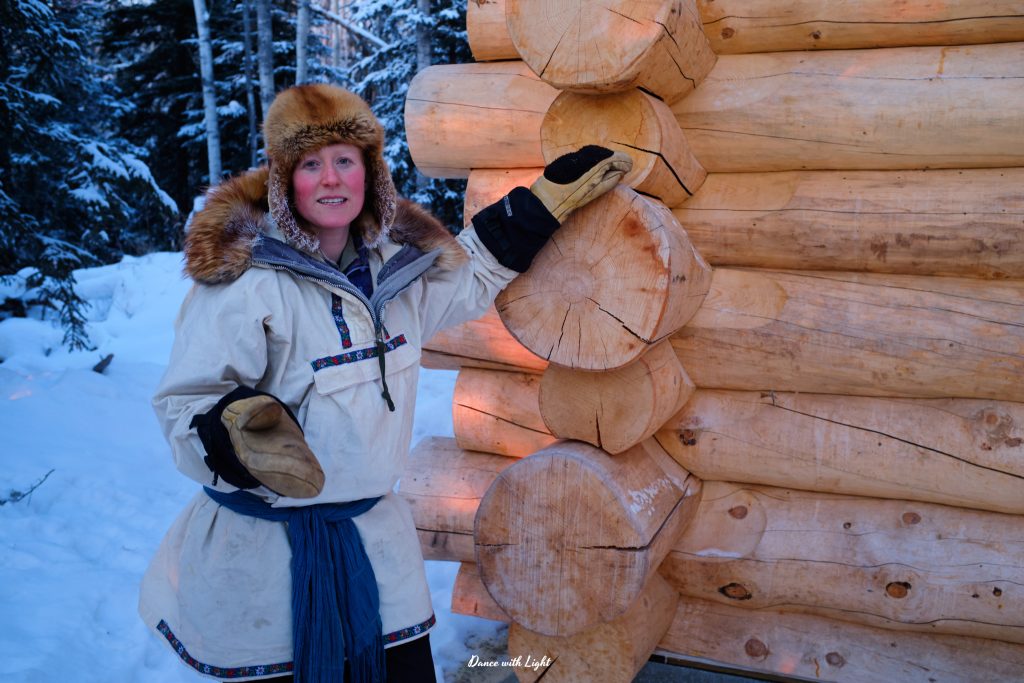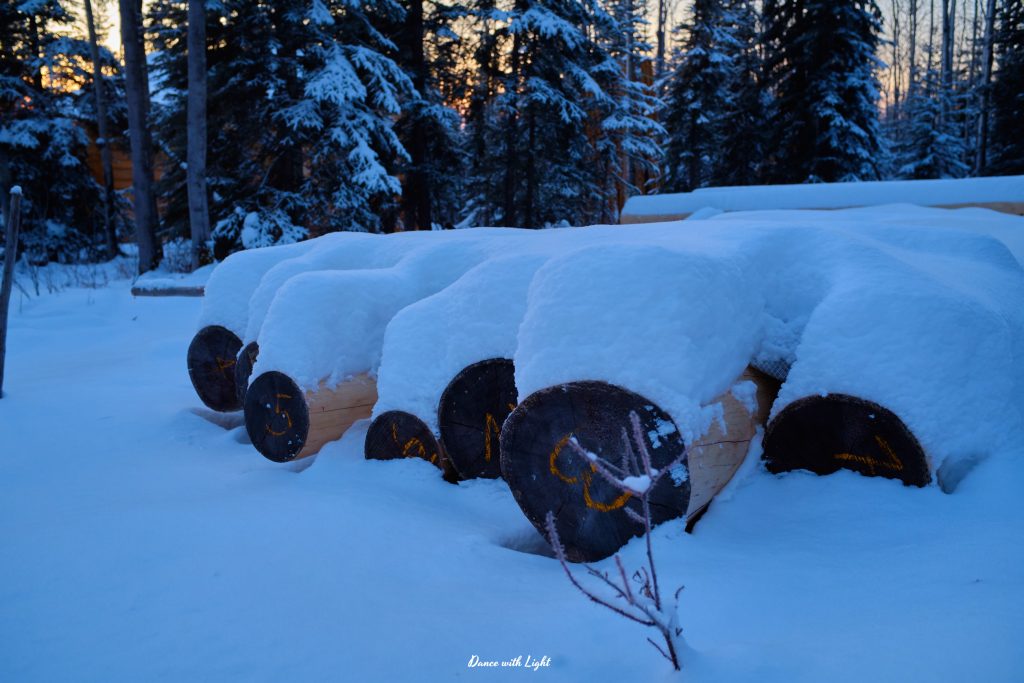 In the summer they fish and prepare for winter food. On a good day, they can catch more than 100 salmon or white fish a day. In winter, they can save 1,000 salmon for 10 dogs. You can hunt all year round here.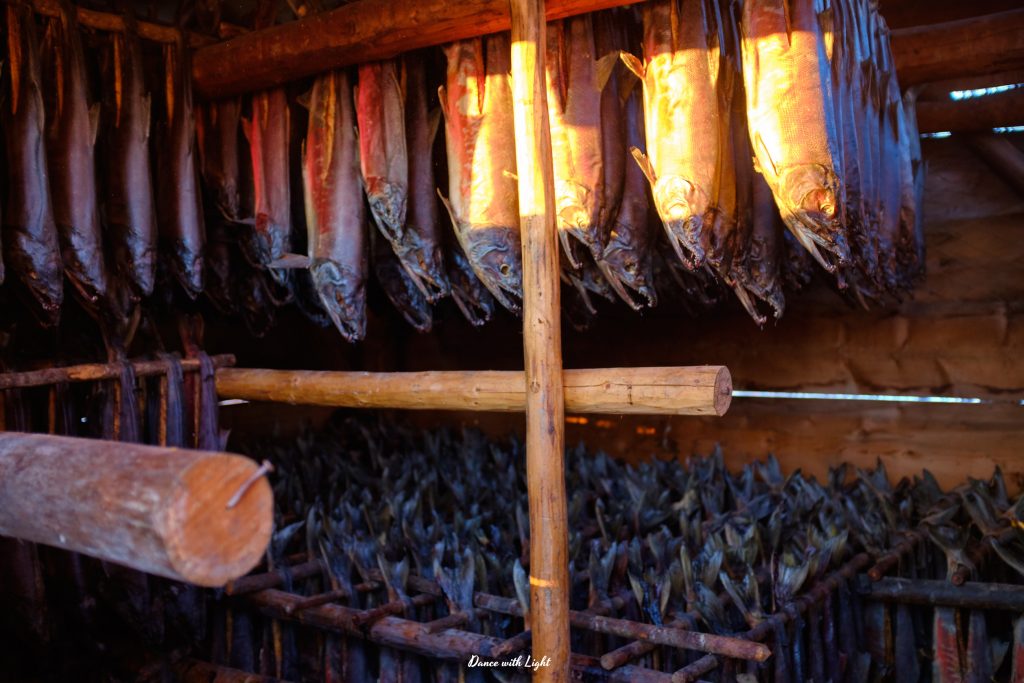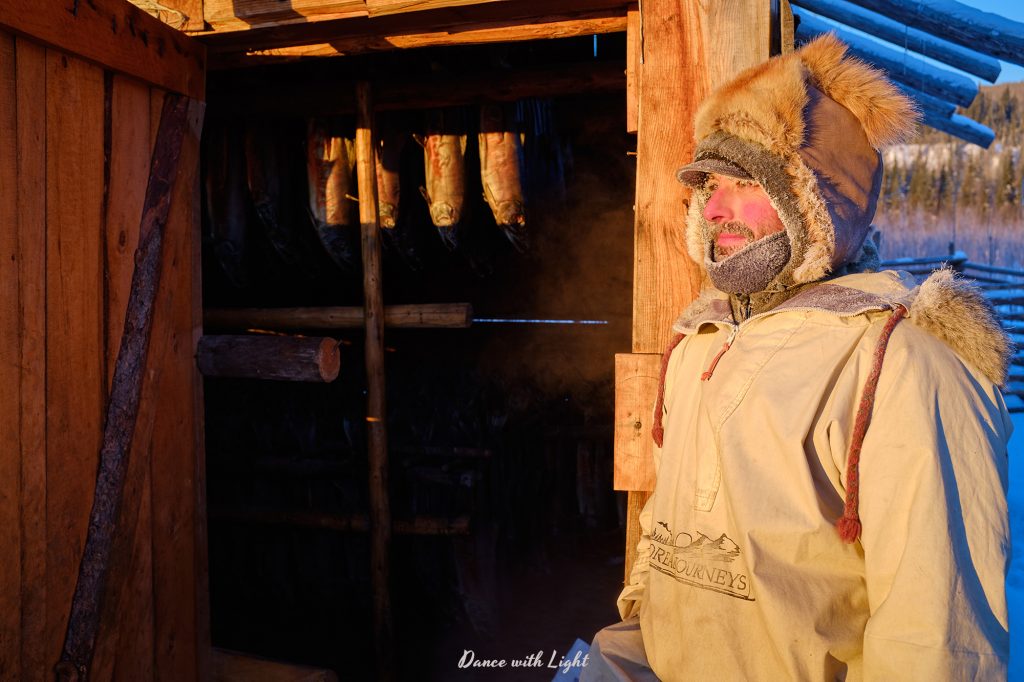 Before I came, I was prepared to endure hardships: the wooden house was cold, and there was nothing to eat. We would suffer. If your expectations are low, there will be pleasant surprises everywhere. It turned out that the wooden house and the fire stove were so warm. If you accidentally added too much wood at night, you have to open the door to cool off. Every day, they brought out their best food, white fish, salmon, moose meat, cranberry, chocolate, homemade ice cream. Everything tastes so delicious and precious in this freezing weather. It was out of this world! Under the candlelight, in the cabin with the tableware made of woods, tasting the delicious fish soup and deer steak, listening to them tell stories – it was such a dreamy feeling, this is really a modern paradise!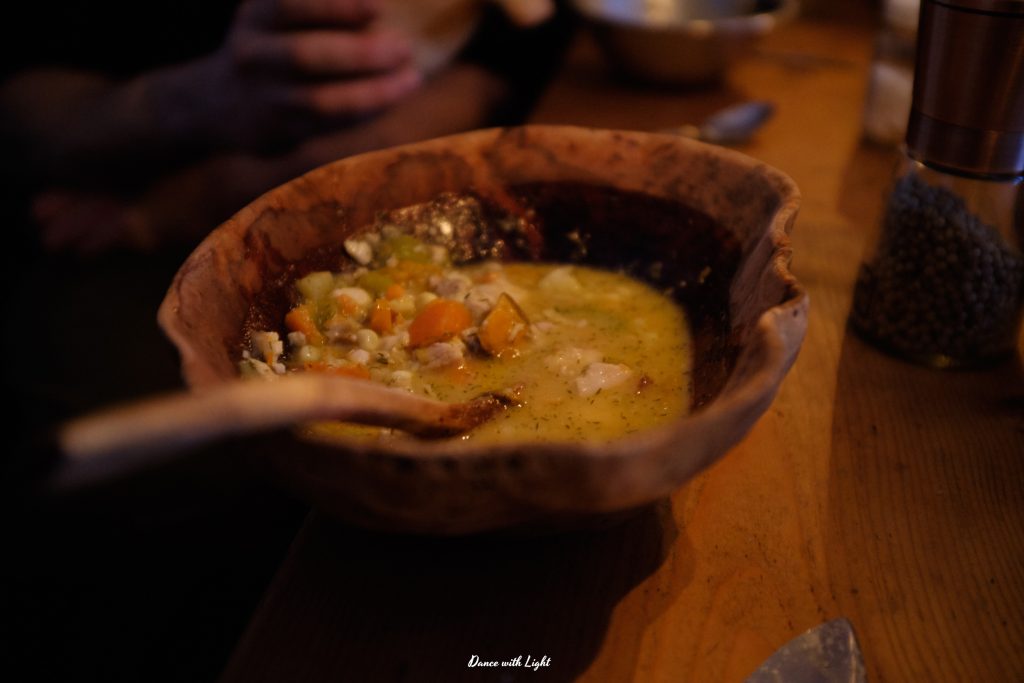 David does not like to use high-tech products. He uses flip cell phone, He is so smart, being fisherman, hunter, and architect. Jenna was educated at a private school. During her university years, she visited many countries and graduated from law school. She finally decided to quit her lawyer career and chose to buy this land and live in seclusion. Her grandmother joked that her parents invested a lot of money to get the best education for her, to let her advance, but she now choose to go straight back to ancient times! Her words and demeanor also directly revealed the manners of the nobility, but only more diligent, a super woman who can chop wood, feed dogs, cook, build houses, fish and hunt!
That night, I photographed the most beautiful aurora at the riverside tent. At that time, the temperature was estimated to be minus forty-two Celsius. The Sony A7 iii battery had no problem, but the carbon fiber tripod was frozen and hard to adjust. Looking up at the starry sky, the aurora and the tent's bonfire heat dance together, this scene can rarely be had!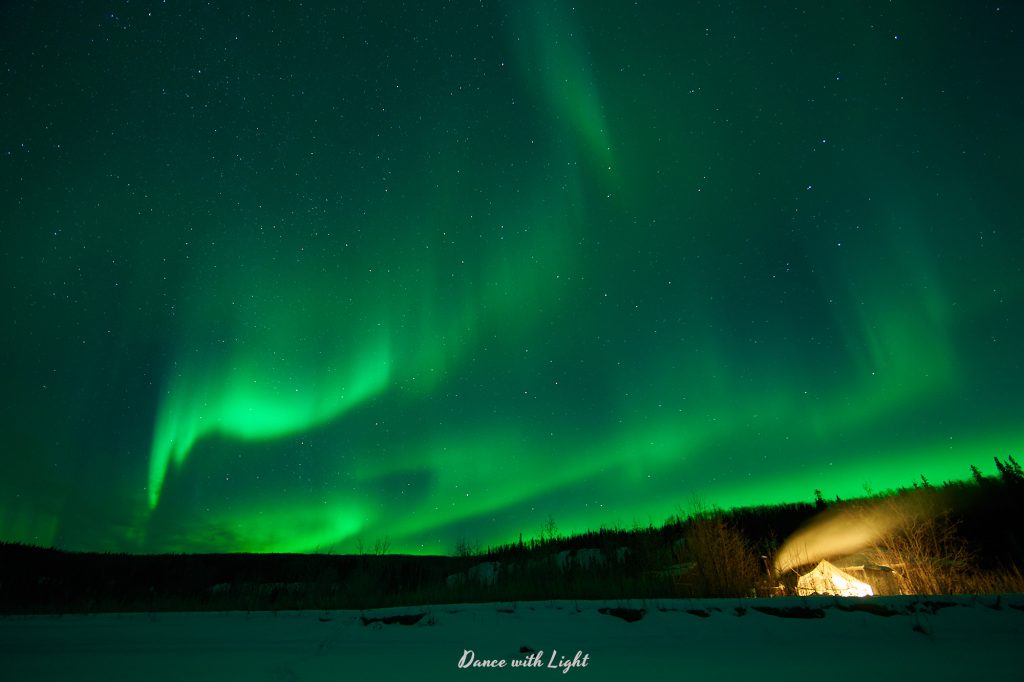 On the second day, at the request of David, I took a couple of pictures for his branding images with the husky dog ​​sled. His request was that the picture was simple, and both of us were satisfied with the result.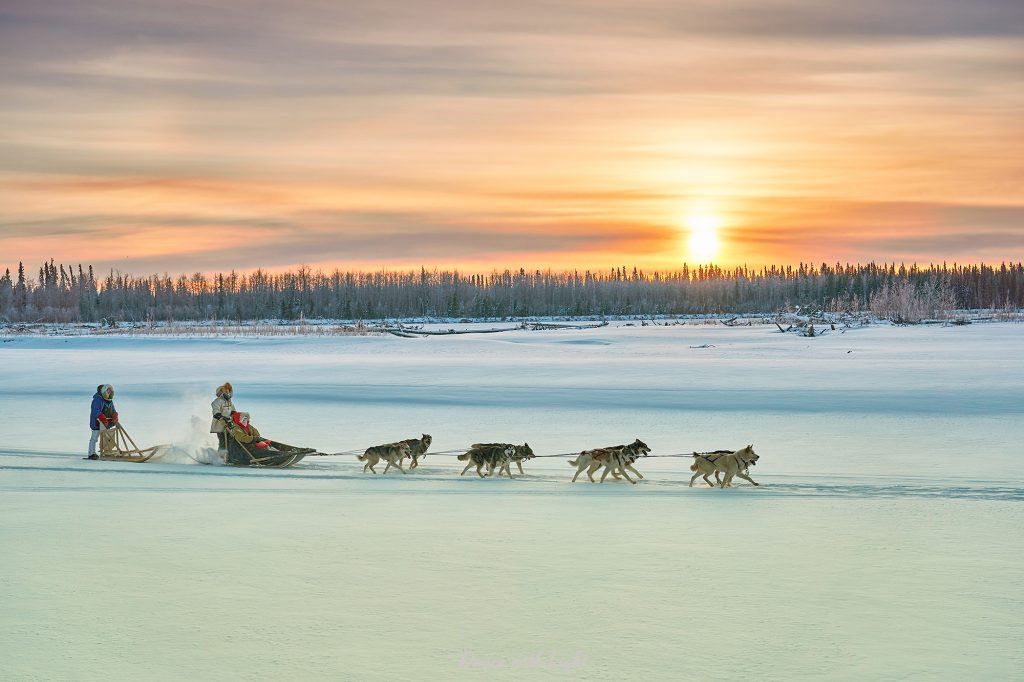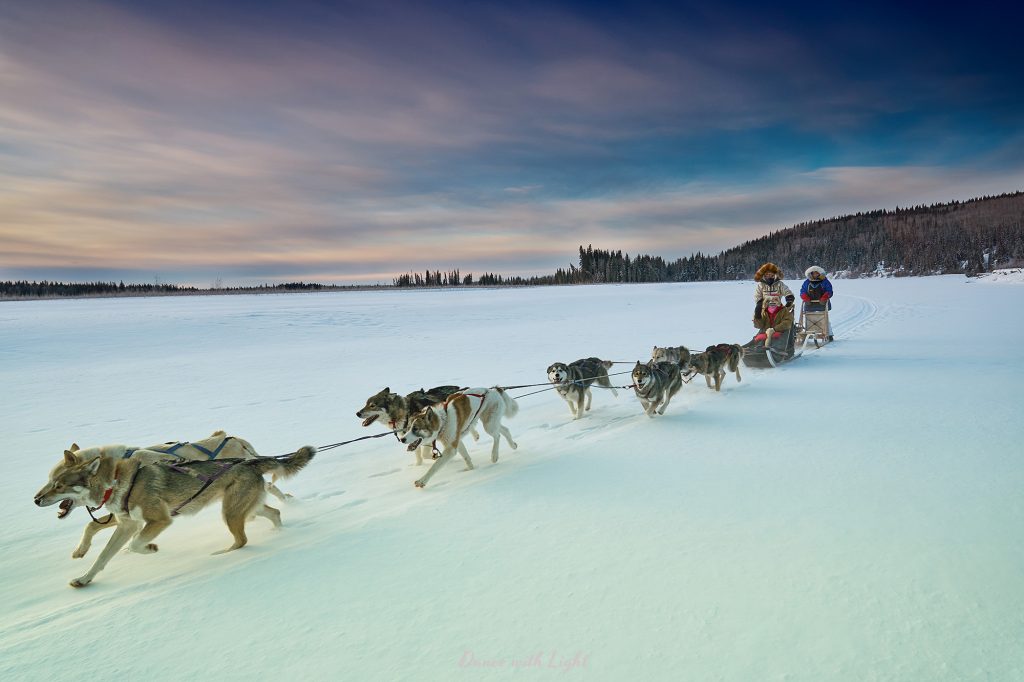 At the farewell dinner, we shared each other's whiskeys and then toasted each other according to Chinese customs. Jenna was a lawyer, eloquent, and the words were meticulous. David just smiled and toasted, till next time…